The Practical Driving Test
Booking the test

Your driving instructor will advise you when to book your test. This will be determined by local test centre waiting times and how you current driving standard is progressing.

To avoid the possibility of double-booking a test slot and the availability of car for the test, please do not book the test without prior agreement from your instructor. The instructor's reference number must be given when booking tests.

The cost of the test presently stands at £62.00 and can be booked by using a test application booking form [DL26] available from your instructor, Post Offices, any driving or theory test centre or by contacting the driving test enquiry line on 0300 200 1122 between 8am and 6pm Monday to Friday.

If you have access to a credit or debit card [or the card holder is present] then you can book your test on the internet by using the DSA Online Booking Service.


You will be required to give

Your Driving Licence number

Theory test pass certificate number

Date of the theory test

Method of payment

Driving instructor personal reference number

It is advised that in winter months, early morning tests are avoided as they are more likely to be cancelled due to inclement weather conditions.

Please confirm your test booking as soon as possible with your driving instructor.

The Practical Test

The Practical Driving Test for car drivers lasts approximately 40 minutes. The test will begin with an eye check test where you must be able to read a number plate from a distance of 67ft [20.5metres]. You will then be expected to answer two vehicle safety checks, one Show me and the other Tell me.

Throughout the drive you will cover a wide variety of roads and road situations. As you will have covered on your lessons, you will encounter quiet low speed to busy high speed roads and town or city driving. You will be expected to drive independently for a period of around ten minutes following signs and/or maps/diagrams. You will also be required to perform one set manoeuvre from a selection of three.


Reverse parking behind a parked car or into a parking bay.

Reversing around a corner.

Turn in the road.

You may also be required to perform a controlled or Emergency Stop.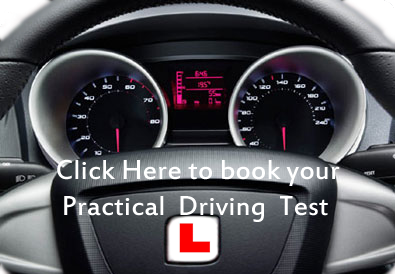 Durham Driving Test Centre is at:-
Driving Standards Agency
Driving Test Centre Durham Meadowfield
1st Floor Enna House
Whitfield Court
St Johns Road
Meadowfield
Durham
DH7 8XL